The Choral Consortium
A Consortium of Episcopal Parish and Mission Choirs
Executive Director: Donald Sebesta
Artistic Director/Conductor: James Edward Garcia
Chorus Manager/Assistant Director: Tawni Raye Garcia
Concertmaster: Dr. Eugene Dowdy
Our Mission
The Choral Consortium consists of choirs and music ministers in small to mid-size Episcopal parishes and missions.
Our goals are:
- to give musicians of smaller parishes and missions the opportunity to perform larger-scale sacred works while representing their parishes and missions;
- to engage in musical worship in addition to our Eucharist and Evensong schedules;
- to allow Episcopalian musicians to build community and enjoy fellowship; and
- to contribute to the fine arts and strengthen ties in our community.
Becoming a Member
If you are an Episcopalian, love being a part of musical worship, and want an artistic challenge, simply contact one of us (see contact info below).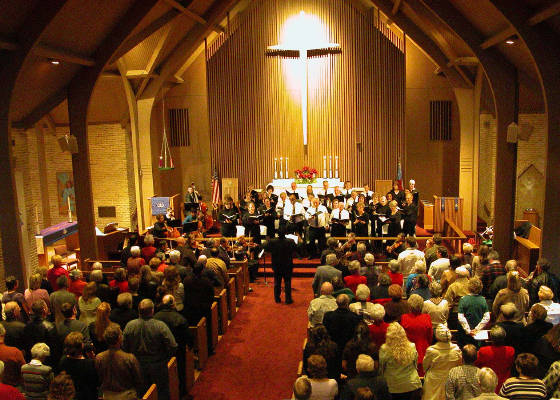 A New Day Dawns
26 APR 2009, 4:00pm
St. David's Episcopal Church
1300 Wiltshire
San Antonio, TX 78209
210.824.2481
Bravo on three wonderful seasons!
On April 26, the Consortium will return to present A New Day Dawns, a concert of traditional and modern sacred works for voice, chorus and orchestra.
This eclectic program of vocal and instrumental music includes music by Beethoven, Barber, Ariel Ramirez, H.T. Burleigh, and British guitarist Jeff Beck.
This concert will also feature music by local composers Donald Sebesta and James E. Garcia.

Featured Soloists:
Soprano, Carol A. Scarbrough
Alto, Tawni R. Garcia
Treble, P.J. Heusinger

James Edward Garcia, Conductor
Dr. Eugene Dowdy, Concertmaster.
For photos from our first concert, please click here.
.